3 November 2022
Earth Justice and COP27 Zoom Conference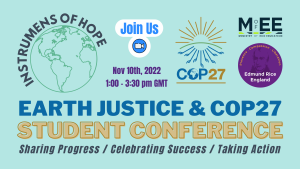 Edmund Rice England is inviting students from EREBB schools to participate in an informative workshop where they will learn about the progress made to date and, will explore positive measures we can all take towards a better future for the planet. This is a global workshop and we encourage all schools to take part.
The workshop will have expert and network contributors. It will be interactive and have accompanying resources for schools.
Date: It will take place during the COP27 meeting, on 10th November 2022 from 1:00 pm – 3:30 pm GMT.
Who can participate? We are asking for a group of up to 5 students from each school. Ages 10 – 18 (primary students will need adult support). Preferably students who actively engage in climate justice/advocacy.
How? By Zoom,  you can register

here

.
Please encourage students to complete

this pre-workshop survey

on Google Forms.
Our

Resource Page

for staff and students is now available.
Please download the workshop guide for all participating students from the resource page.
Participating groups are also asked to prepare a one minute statement on their country's progress on climate change. If they want to read this out during the workshop they can. All directions on how to do this, can be found on the resources page.
If you have any questions about the workshop, please contact Edmund Rice England.