17 October 2022
Global Edmund Rice Schools to Partner with Pope Francis' Education Initiative
The Global Network of Edmund Rice Schools (EREBB) is proud to partner with Pope Francis' education initiative, Scholas Occurrentes. Members of Edmund Rice Education Beyond Borders were privileged to recently meet with Scholas founders, Pope Francis and José María del Corral, to discuss how to further promote global connections among young people and enable a "culture of encounter". This encounter supports young people to look beyond themselves and work together to respond to the needs of others, particularly those most marginalised in the world.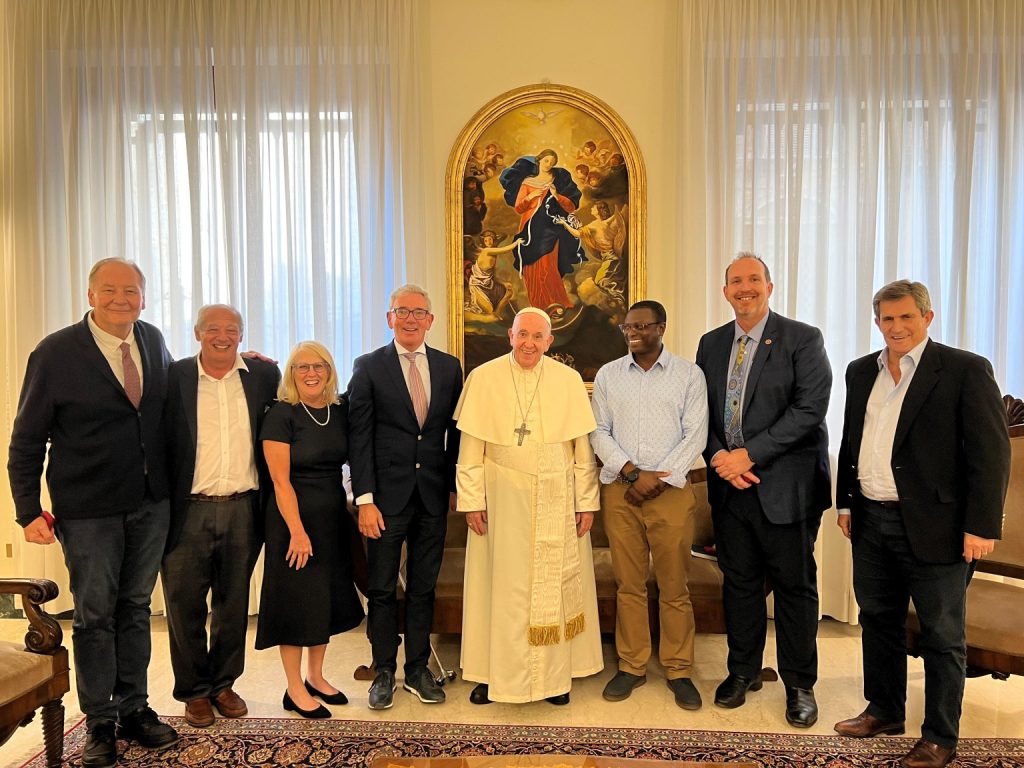 During the meeting Pope Francis expressed his delight with the work that Catholic Schools in the Edmund Rice Tradition are doing in Australia and around the globe to make the world a more just, sustainable and peaceful place. He was deeply interested and attentive to the work of education and the power of young people. He shared his deep belief in the transforming work of teachers and expressed his appreciation for their work and commitment, particularly throughout the pandemic. He invited us all to commit to building a world that cares for each other and the planet. The meeting concluded with the Holy Father leading the group in shared prayer and offering a blessing for all our schools, students, staff and families. Pope Francis finished with the encouraging words of, "Now, just go and do it!". All present found it a very emotional, deeply moving and inspiring encounter.
"It was a great joy to meet with the founders of Scholas, Pope Francis and José María del Corral, and share about the spirit and transformative power of global Catholic education. The Holy Father had a deep interest in what schools were doing around the world for the poor and the planet and shared his deep appreciation for the vocation of teachers."

"The partnership with Scholas will enable schools and their young people, in such diverse places as Sierre Leone and Sydney, Mumbai and Melbourne, Peru and Perth and Chicago and Canberra, to work together for the planet and all people." Brian Garrone, EREBB Executive Officer.
"EREA is honoured to be contributing to EREBB's work with Scholas Occurentas. Pope Francis continues to inspire our commitment to liberating practice through his words, actions and challenges. This is a wonderful opportunity for all Catholic Schools in the Edmund Rice tradition to be part of the global movement of enabling young people to collaboratively make a difference in the world. Over the last decade, and particularly throughout the pandemic, our schools have come to value the importance of collaborating beyond borders and working together to ensure a better world for all." Ray Paxton, Edmund Rice Education Australia (EREA) Interim Executive Director.
This partnership will enable Australian schools to link with other global schools, to actively participate in and contribute to the transformative programs of Scholas Occurantes. Scholas Occurrentes is an international organization present in five continents through its extensive educational networks. Its mission is to create the Culture of Encounter; by bringing young people together from diverse backgrounds in an education experience that generates understanding across the globe.