11 April 2020
From the classroom to the home room (Part 2)
In the physical classroom, you likely don't distribute a handout without saying something and providing some kind of context to help your students understand what they're doing, and why. You're well-versed in how you introduce content to your students in the classroom—what does this look like in a virtual environment? Ian will provide advice on how to transfer the strategies you use when distributing content in the physical classroom, into the virtual (and often asynchronous) classroom.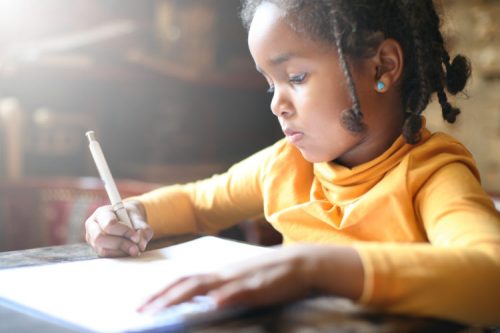 Wherever you are, your new reality—whether in the form of shelter-in-place, closed schools, or some other kind of restriction—is becoming something that feels less and less new. It may only have been a couple of days for you, but it might already feel like weeks. With every sign suggesting that things will remain like this for months rather than weeks, let's look at some foundational building blocks that will underpin any future teaching and learning you lead online.
The ancestry of digital resources
For most online learning courses—those created by teachers who've been doing this for years, or those built in a hurry by those suddenly exiled from their physical classrooms in very recent times—digital resources are at the core. These could be:
Documents: Spreadsheets, text documents, presentations
Media: Images, video, audio
Linked resources: Complete websites, sections of websites, interactive tools
In many of our physical classrooms, their equivalents might be:
The articles or readings for learners to digest
Whole textbooks—or chapters and pages from textbooks—in paper or digital format
Pictures and recordings to stimulate the imagination or enrich a topic
Interactive tools to enable experimentation, creativity, or simply encourage playfulness
What happens to these inside the classroom?
Think about what happens in a classroom when you distribute resources, such as reading material, stimuli (imagery or physical objects, for example), case studies, background reading, and assessments. You might introduce them to give context, meaning, purpose—or you deliberately might not, to encourage learners to make their own connections between what you've just handed them and what they already know.
You may not have thought about this too much before—perhaps handing out content in class is so woven into the routine of your students' day that it's done without a second or third thought—but how do you and your students interact with what you give them? In other words, if you were to carefully analyze the interaction you and your students have in the classroom with resources, down to each little detail, what would you find out about what you all treat as implicit understanding?
In class, you have likely routinized some—or all—of the following strategies:
Explaining why you've given this particular resource to them.
Giving some background to put it in context.
Asking them NOT to look at something until you've explained more.
Highlighting words or content or even a new type of resource that they might find unfamiliar.
Explaining how this resource links to or is informed by what you've covered before.
Outlining some questions they might want to ask about this content.
Each of these might prompt discussion in class, as you start to round off the snags in your class's understanding, where the rough edges of the content catch on the fabric of their knowledge and experience. You have the chance to correct any misconceptions, place the content firmly in context, and ensure that your students' understanding is secure, so that they can move on to what's next.
Learning at a distance is going to feel quite a bit different from this. In some ways, you're back to the first day of school. You will have to reestablish some of your practices and routines. You will get there, but just like on day one, it takes time. You do have an advantage that you did not have on that first day, however—you know your students and they know you.
Now, one of the first things you might notice about educating at a distance, is that your usual conversations and interactions will be different. And really, they should be. Your learning environment has changed. So, when providing resources like you have in the past, it's helpful to dial back the clock a bit and reset the purpose and expectations that you have in using these resources. The way you "hand out" a reading in the classroom isn't the same as at a distance. This could mean—especially when you get started—the content might be simpler and less sophisticated than what you'd hand out face to face. And that's fine.
However, it's the context in which we find ourselves—along with our students—that should make us think carefully about the purpose of using different types of classroom resources.
Where to start?
This may feel daunting to you. It likely does for your students as well. But remember, you do have some advantages over that first day of school. Here's a trick we think may help you get started: Give students something they've already seen. This will help you AND them analyze the differences between how this works in the classroom, versus how it works in the home. The upsides here:
You know the content.
You know the kids.
They'll be familiar with the content. Therefore the only unknowns—the things you'll be able to assess in isolation—are the affordances of the online environment.
You and they will get a clearer picture of the differences between engaging with content in the classroom and at home.
As you move through this process, we suggest total transparency. Talk about the differences and perhaps challenges you are facing in doing this, and find out from your students the challenges THEY are facing. How was this different for them? What did they like? What did they struggle with? What expertise can they lend to the process? It is so important to co-construct this experience. Remember, in our courses, the teacher is the lead learner—so, although you might be the first one to dip your toes into the water, you'll all be jumping in together.
Some basic tips and tricks
While a lot of this may feel like finding your way through the dark together, we do have some suggestions and resources to help you avoid some common pitfalls in distance learning:
Don't share stuff to be printed… not everyone can do that at home.
Video tutorial: How to Create Topics and Add Materials Within a Class
Text tutorial: Add Materials to the Classwork Page
Video tutorial: Adding Material to a Google Classroom (hint: the description field is where you can place your narrative; or, you could do this in a class's Topics).
Send out a recap at the end of a session (often, this is just an annotated version of your lesson plan). It can be hard to track when someone's Internet cut out, when their sibling yelled in the background, or (let's be honest), when they spaced out. Plus, if someone couldn't get online that day, this recap allows them to participate.

Remind me of why I'm doing this?
"Because my school is closed." Well… yes, that is true. But take heart. Think about the small community you have in your classroom—however mature or in its infancy that may be. You probably know your students better than anyone else in your school and you'll know the important role that being in your classroom plays for some. It might be safety, a place to be fed, a place of friendship, challenge, or respite. Learning, in whatever setting, but with their community, can play a vital role for your scattered students at this time—and quite possibly for you.
Providing a communal piece of learning, or some content that stimulates your students' distracted brains, gives them a common focus. Right now, school might seem the place they were a few weeks ago—"before all of this started"—but, done well, your thoughtfully-curated content and insightful questions and prompts can give them a link back to that peer community of theirs that you've helped to nurture, and that they might need now more than ever.
Source: OER Project Community