28 August 2022
Million Minutes Award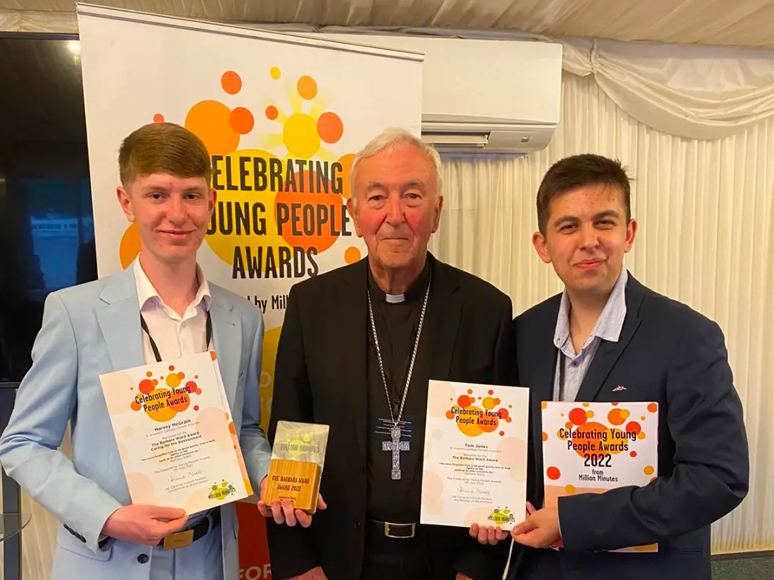 Tom and Harvey, two pupils in Year 11 from St. Anselm's College (England), who were originally shortlisted from 1000 entrants for a prize at the Celebrating Young People Awards in London. Tom and Harvey were awarded the prestigious Barbara Ward prize and Million Minutes Award in recognition of their efforts to raise awareness about the impact of climate change and tackle such issues. Their prize was presented to them by Cardinal Vincent Nicholls, a Christian Brothers old boy, at the House of Commons on Thursday 7th July.
Tom and Harvey represented the Edmund Rice Schools Network at CoP 26 in Glasgow in November 2021. They have been active in the Edmund Rice Schools Network in projects such as Edmund Rice Schools Against Waste and the PRATYEK Earth Summit and are prominent in our efforts to raise the profile of sustainability, remove single-use plastic from schools and encourage composting of waste materials.
The Barbara Ward Award recognises young people who have conserved, enhanced or protected creation. The Million Minutes enables youth action and advocacy activities that give voice and support to young people (aged up to 25) to transform their lives and their world. That's because young people's energy and vibrancy is astonishing. We have faith in young people. We see a world in which young people enable the transformation needed for everyone to live a life of dignity.
On August 19th, Toma was interviewed on Radio Maria. Tom told presenter, Helena Judd all about the experience of receiving the award and about the work he and his good friend Harvey McGrath had been doing around campaigning to make positive changes regarding our environment and the climate crisis. Ann Nichols was also part of the interview, and she gave an overview of the Edmund Rice Schools in England as well as the global network. Our schools have been invited to contribute to the Radio Maria schedule on a weekly basis to catch up with the social justice work they are doing. The slot will be known as "Life Lessons with Edmund Rice". Listen out for them!