12 February 2021
Peru Virtual Immersions 2021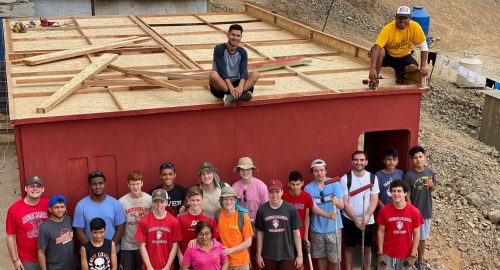 Dear Campus Ministers or Head of School,
Greetings from Lima, Peru!
I am Brother Stephen Casey and a member of the Christian Brothers North American Province living in Lima, Peru. In 2021 as you may know there will be no immersion groups to Lima, Peru due to Covid-19. Covid-19 has hit Peru very hard this past year with many deaths, long periods of lockdowns, few jobs and a great struggle to the poor living in the hills of Lima. A very sad reality as so many families struggle everyday just to survive. Please continue to keep the people of Peru in your prayers!
This year we would love to continue to help the people of Peru by bringing hope and continue to build homes for the poorest families in the hills of Lima. Though you can't be with us, we thought about bringing Lima to you through Zoom.
Some of you have been to Lima on immersion and others have not. I think this could be a great way to introduce the Lima Immersion Experience to those schools that have never come on immersion to Lima. As of 2020, nine out of the fourteen Christian Brothers High Schools in the United States; Vancouver College and St. Thomas More Collegiate in Canada; CBC Fremantle and CBHS Lewisham from Australia; Colegio Stella Maris from Uruguay and Colegio Newman from Argentina have come on immersion to Lima and most of them every year since 2005. Thank you so much for your support of this program.
See the Lima Virtual Immersion Program outline of how the program would work. We can change anything and everything to meet the needs of your school. The cost of construction of a home for a family will be 2,300 US dollars.
There are so many ways your school community can work together to help fund a home for a family in need.
I know the world is tough for everyone these days and that every school is working hard just to make the best of this school year. I just ask you to think about this proposal to see if it might work for your school. Thank you so very much!
If your school is interested and has a Zoom account, just let me know by sending me an email with a week in the calendar year 2021 that works for you. Then I'll get in touch with Jorge our carpenter, Jose and the whole immersion team, to show all your students on Zoom the great love of the Peruvian people through your gift of a home to a needy family.
Many blessings always to each of you. Hope to hear from you in the near future.
Br. Stephen Casey